You are here
Upcoming Event Looks to Improve Community Benefits in the Central Valley
Upcoming Event Looks to Improve Community Benefits in the Central Valley
How would you invest in the health of your community?
Growing up, I learned the importance of listening to my family, friends, and neighbors. When I was 5 years old, I remember sitting at the end of our driveway with my grandpa, listening as he talked to everyone who walked by. Nearly half a century later, he knew something about everyone in our neighborhood. From the wisdom of those around me, I felt the pulse of my community.
Sociologist David Brain said, "Community is something we practice together. It's not just a container." Like science, medicine, and technology, becoming an expert on the needs of your community takes dedication and years of study. There are no better experts on the needs of a community than those, like my grandpa, who "practice" community every day.
Today, however, many decisions that impact the health of communities excludes the expertise of community members and leaders. Rather, health actors should bring the voices of these community experts to the table. Specifically, not-for-profit hospitals must play a more prominent role as anchor institutions – important local organizations with the resources to positively influence and shape the health of their communities. Not-for-profit hospitals like Kaiser Permanente, Dignity Health, and Adventist Health (just to name a few) receive billions of dollars in tax breaks and exemptions ever year. In exchange, these hospitals are required to invest in the holistic health and wellbeing of the communities they serve. These investments are known as 'community benefit'.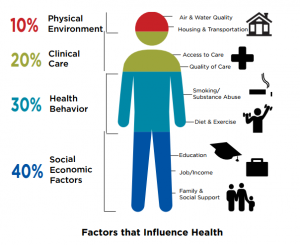 Typically, not-for-profit hospitals direct the vast majority of their community benefit dollars towards charity care. While access to charity care is absolutely essential, particularly for the uninsured or underinsured, not-for-profit hospitals have the opportunity to use community benefit spending to invest in the social determinants that most impact our health.
Long before we visit a hospital, social and economic factors shape the health of ourselves and our communities. Access to nutritious foods, clean and affordable living environments, and educational opportunities all have profound impacts on our health and wellbeing. When we consider the disproportionate impact these social and environmental factors have on communities of color, this then becomes a matter of health equity.
For the past few months, I have been researching the role that not-for-profit hospitals play in the Central Valley to improve community health and tap into the wealth of knowledge that community members bring to decision-making processes. My research revealed, however, that while not-for-profit hospitals in the Central Valley invest an average of 8.4% of their total operating budget towards community benefit, only 0.42 percent went towards addressing the social and economic factors that are largely the root causes of poor health.
Community members, stakeholders, and not-for-profit hospitals must work together to integrate the community knowledge and the expertise and resources from not-for-profit hospitals to strategically address the holistic health needs of diverse communities.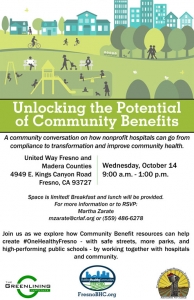 And that's why we need your help.
In the name of collaboration, The Greenlining Institute in partnership with the California Rural Legal Assistance Foundation and Fresno Building Healthy Communities will be hosting a community discussion on the role not for-profit hospitals can play in building a healthier Central Valley. Please join us for a robust conversation about how advocates in the Central Valley can better leverage community benefit to address the health needs of underserved communities. Details of the forum are below:
Unlocking the Potential of Community Benefit: A Community Discussion about How Not-for-Profit Hospitals Can Build Health in the Central Valley
When: October 14, 2014; 9:00am – 1:00pm
Where: United Way of Fresno County, 4949 East Kings Canyon Road, Fresno, CA 93727
Health policy decision-makers and not-for-profit hospitals must rely on the expertise of the communities they serve. By bringing together community leaders, not-for-profit hospitals, and advocates, we hope this discussions can serve as a jumping point for strategic partnerships between local and state government, advocacy organizations, community members, and not-for-profit hospitals to target community benefit investments towards sustainable solutions that meet the health needs of underserved communities in the Central Valley.
We look forward to seeing you on October 14th as we discuss solutions to creating #OneHealthyFresno.
Commenting Policy: CPEHN encourages our readers to post comments in response to blog posts. We place a high value on diversity and discussion. We would like our comments section to remain a place where anyone can post their thoughts knowing they will be treated in a respectful manner. We actively moderate comments and we reserve the right to edit or remove comments that create a hostile environment for other posters.