Purpose:
Here at CPEHN, we are building power with an ecology of community leaders who will unlock the power and potential of public health to drive community-driven systems change.
Why do we organize for public health?
"Public health" has entered the American lexicon since the onset of the devastating COVID-19 pandemic, inviting questions from many around what it is and what it looks like in practice. Some have started to associate public health as a professional practice (for example, stopping the spread of an infectious disease) or a specific governmental department (for example, the California Department of Public Health). While this development is exciting for many, questions remain even for practitioners in the field around how "public health" connects to community rooted organizations and the broader social justice movements such as Black Lives Matter and Free Palestine. How do we leverage public health as a practice to work towards our collective health and liberation?
At CPEHN, we believe that public health is a powerful practice of approaching our collective health from addressing the root causes and holding systems accountable. The power of public health as a science and an art, lies in its rigor from data and research, but also from stories, culture, heritage, and community-rooted wellness and safety practices. We recognize in order for us to achieve our collective health and liberation, advocacy and organizing need to be at front and center of public health practices. We draw inspiration from the origin and history of this field, not just from well-known examples taught in public health schools, such as Dr John Snow's advocacy in the 1800s, but also from Black and Indigenous people-led health affirming initiatives, such as the free community health clinics and food pantry that the Black Panthers Party opened in the 1960s and 1970s.
We firmly believe that the solutions for the well-being and liberation of our people start from the wisdom of our communities. CPEHN's Organizing for Public Health Leadership Academy (OPHLA) supports community organizers to leverage public health as a tool and practice to institutionalize that wisdom.
Participate in the 2024-2025 OPHLA Cohort!
Program Overview
Organizing for Public Health Leadership Academy is an innovative 20-month program, designed and led by CPEHN and Human Impact Partners to build power with community organizers towards our collective health and liberation. The program builds capacity and leadership in community advocates and organizers to leverage "public health" as a field of practice and as a tool to deepen their advocacy. Participants will receive support and guidance as they identify key issues in their community and form policy solutions with a public health approach as well as an abolitionist lens. Participants will also build relationships with each other and key governmental allies and state/local public health officials to deepen their advocacy.
CPEHN is dedicated to supporting a generation of organizers and advocates who are unafraid to challenge the status quo. Join us in a transformative journey to building life affirming institutions and healthy communities for all.
The 2024-2025 cohort starts in March 2024.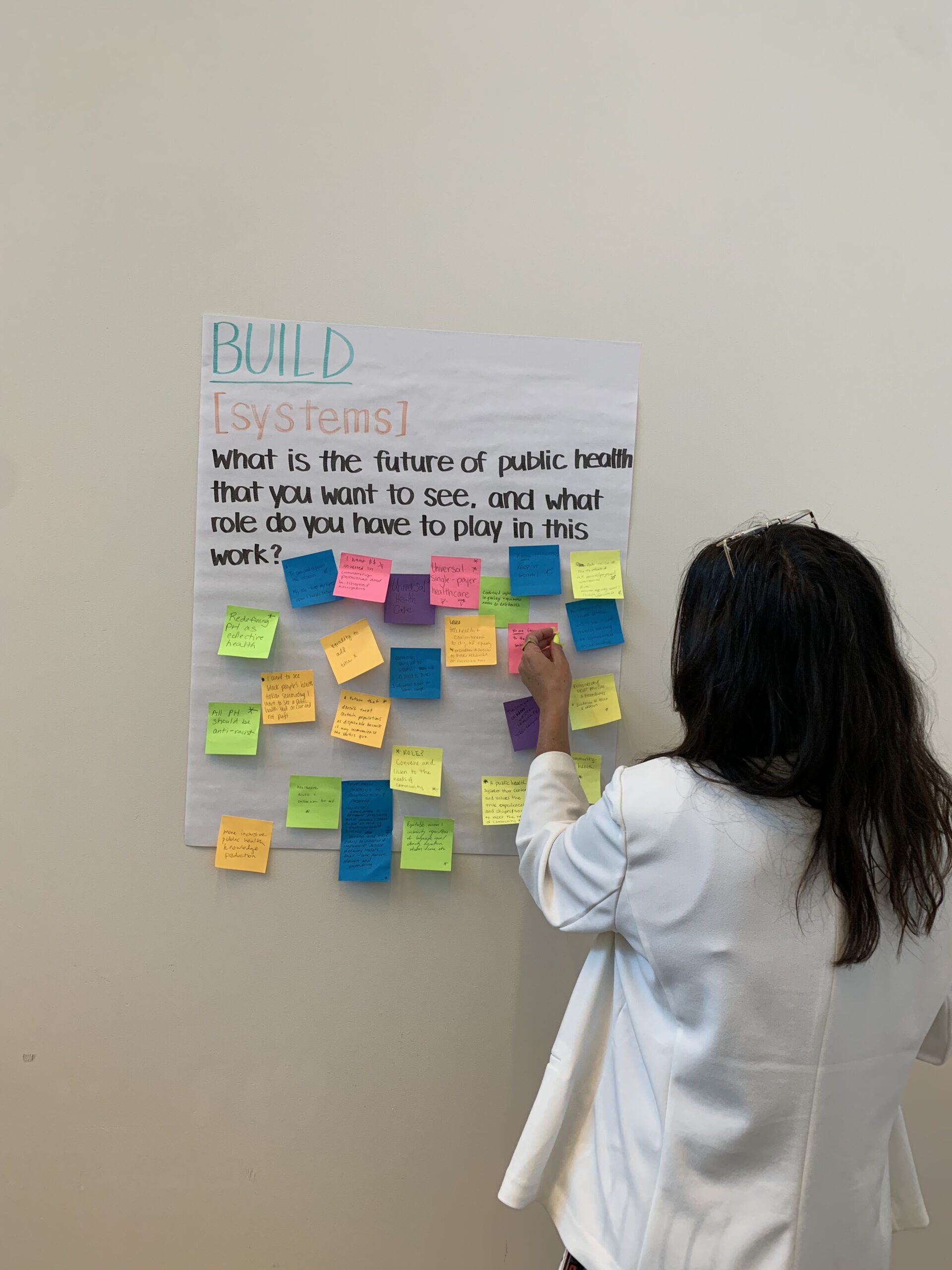 Pictured here: Sophie Simon Ortiz, from HIP, looking at a chart paper titled "Build [Systems] What is the future of public health that you want to see, and what role do you have to play in this work?" with colorful sticky notes of participants' answers.
Who should apply?
Advocates or organizers with work or lived- experience around health equity. Specifically, we invite applicants from LGBTQ+, Black, Indigenous, Immigrants communities and people with disabilities to apply.
You are employed at a 501(c)(3) community organization in California.
You are already working on a sociopolitical issue that impacts health, such as housing or food security, climate change and environmental justice, community safety and alternatives to incarceration, etc.
We welcome applicants with varying levels of familiarity and experience with public health, organizing, and policy advocacy.
You are passionate about building community and identifying root-cause solutions to create the future we want.
What's the commitment?
Training, coaching, and technical assistance directly from CPEHN and HIP
Guest speaking sessions (past speakers include: California Department of Public Health, Berkeley Media Studies Group, California Budget & Policy Center, Central California Public Health Consortium, etc)
Monthly meetings (about 80% virtual/over Zoom, 20% in person)
A 20-month curriculum that dives deep into frameworks and strategies such as

Defining and redefining public health
Introduction to the Prison Industrial Complex and abolition
Applying an abolitionist framework to public health
Policy development
County budget
Narrative development and strategic communications
Power mapping and landscape analyses
Inside-outside government strategies

Lasting relationships and a network of like-minded people!
Join us for an Info Session!
Interested in learning more at an info session? Register for one of our upcoming sessions here:
Nov. 28th at 1PM: http://bit.ly/InfoSessionOPHLA
Dec. 14th at 11AM: https://bit.ly/InfoSessionOPHLA2
Apply for The Academy Cohort
Key Dates:
Application Opens: November 8, 2023
Application Closes: January 5, 2024
Program Dates: March 2024 – October 2025
2022-2023 Cohort Participants:
Asian American Liberation Network
Asian Solidarity Collective
Central Valley Urban Institute
Decarcerate Sacramento
Empowering Pacific Islander Communities
Imperial Valley Equity and Justice Coalition
Mixteco Indigena Community Organizing Project
Multi-Ethnic Collaborative of Community Agencies
Partnerships for the Advancement of New Americans
Pomona Economic Opportunity Center
Roots Community Health Center
Vision Y Compromiso
Human Impact Partners (technical assistance provider)
For questions about CPEHN's Organizing for Public Health Leadership Academy, reach out to Weiyu Zhang, Policy Director at wzhang@cpehn.org or Navneet Virk, Senior Community Advocacy Associate at nvirk@cpehn.org.